D&AD: Getting back on the right track
After rendering the 'beauty bar' section of the Trend Gallery and completing the branding, I submitted my PDF for review by David, Joe and Danielle. I was reasonably happy with the pdf I submitted a the time, however, looking back, there was a lot that needed to be improved, and it was far from my best work and what I was capable of. The feedback was relatively neutral, and there were more constructive points made than positive ones.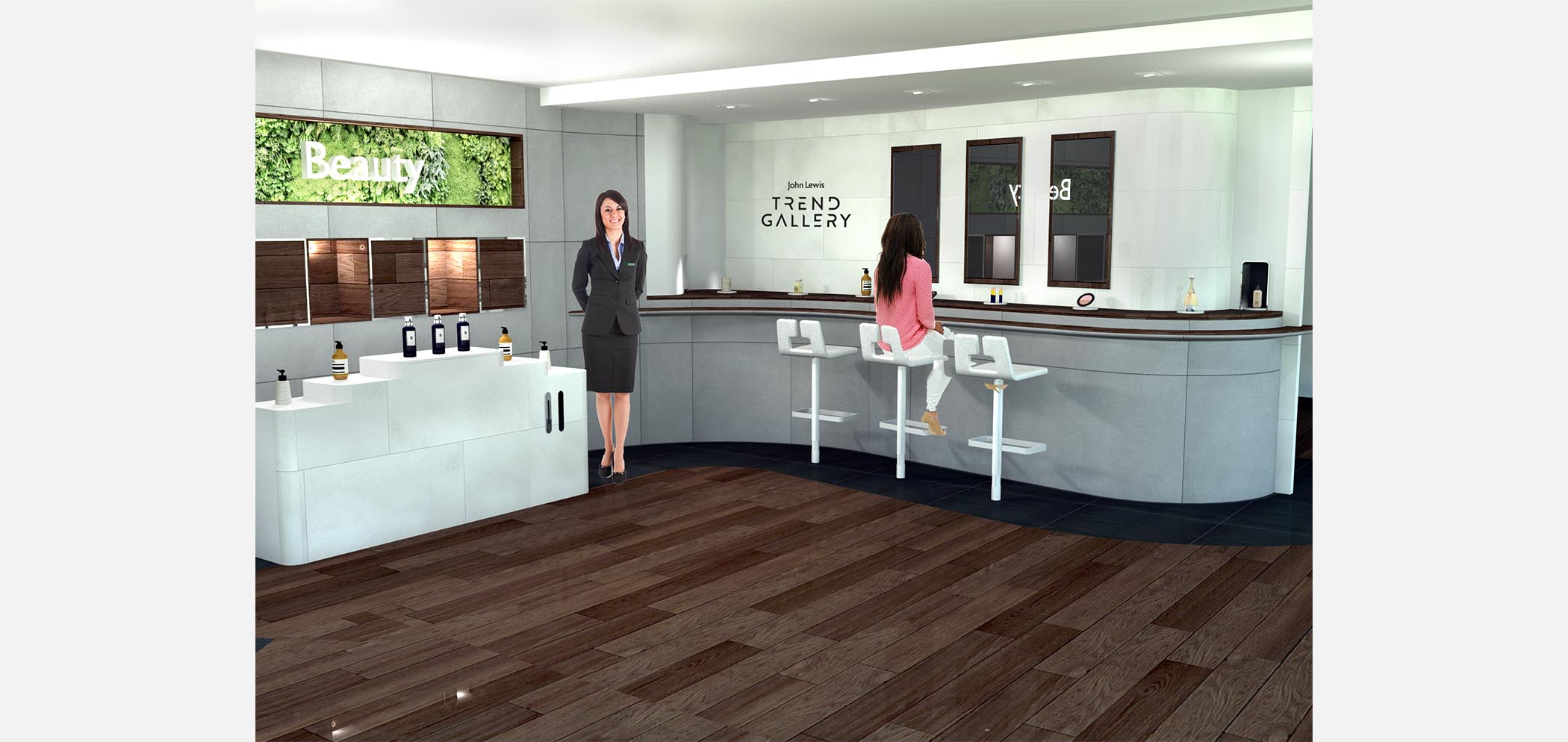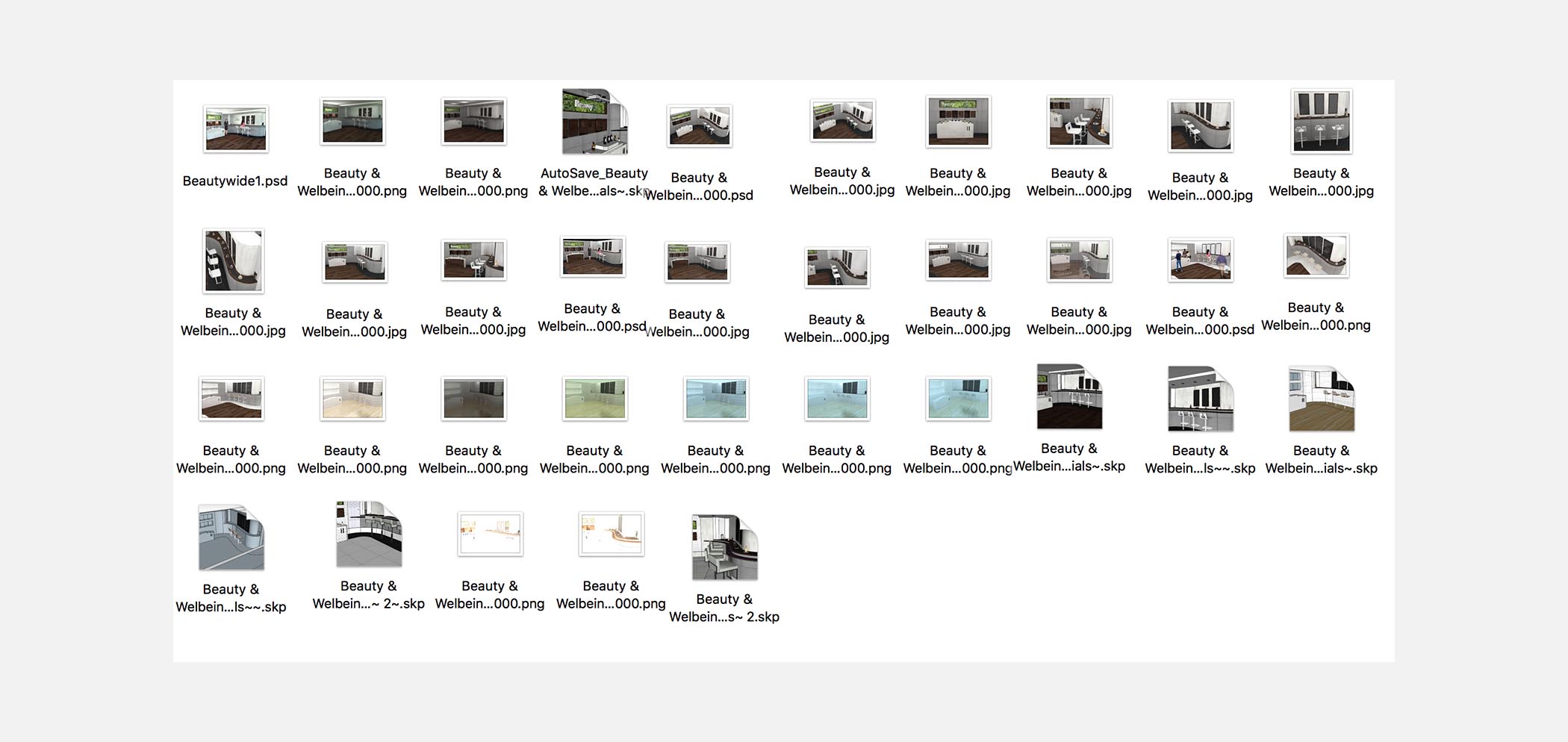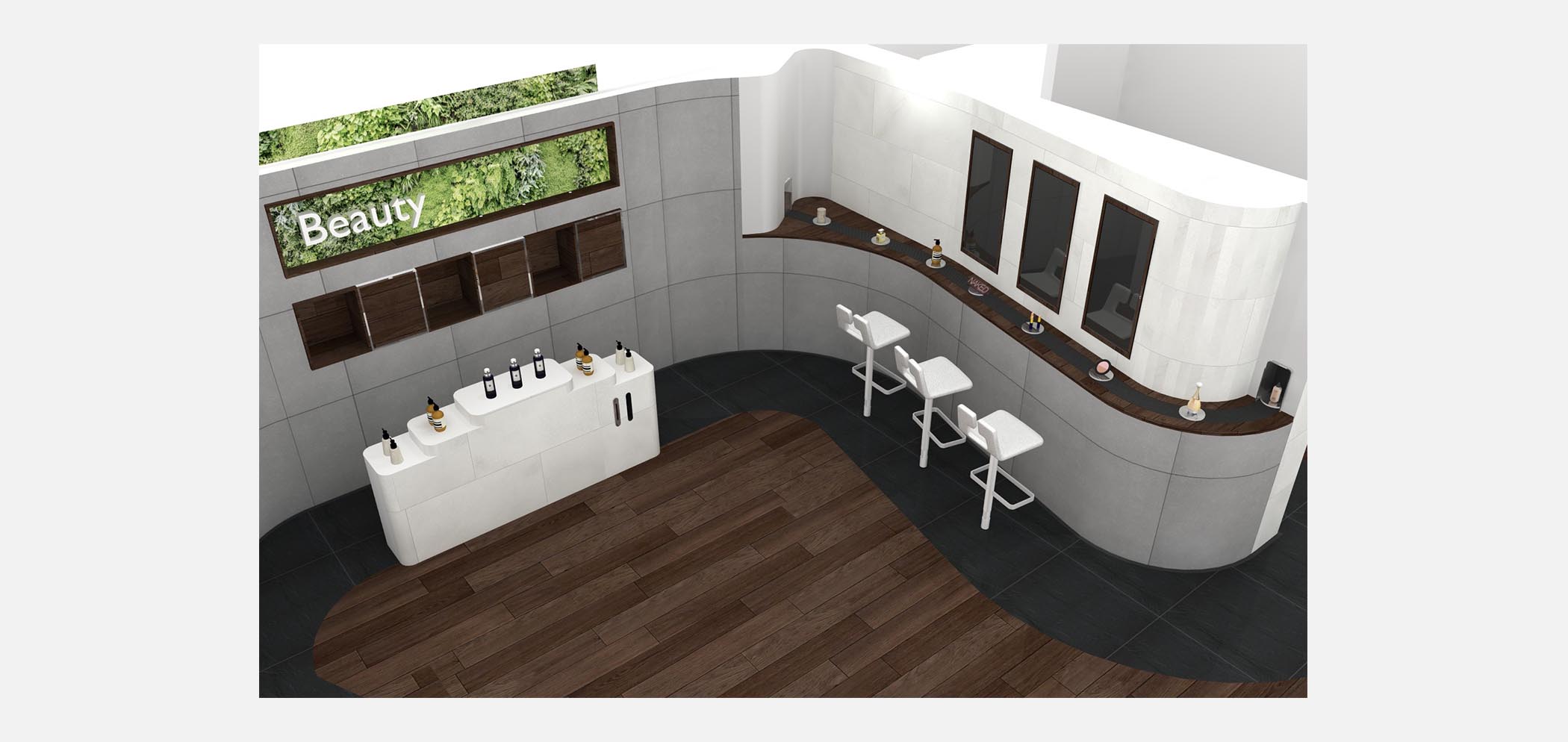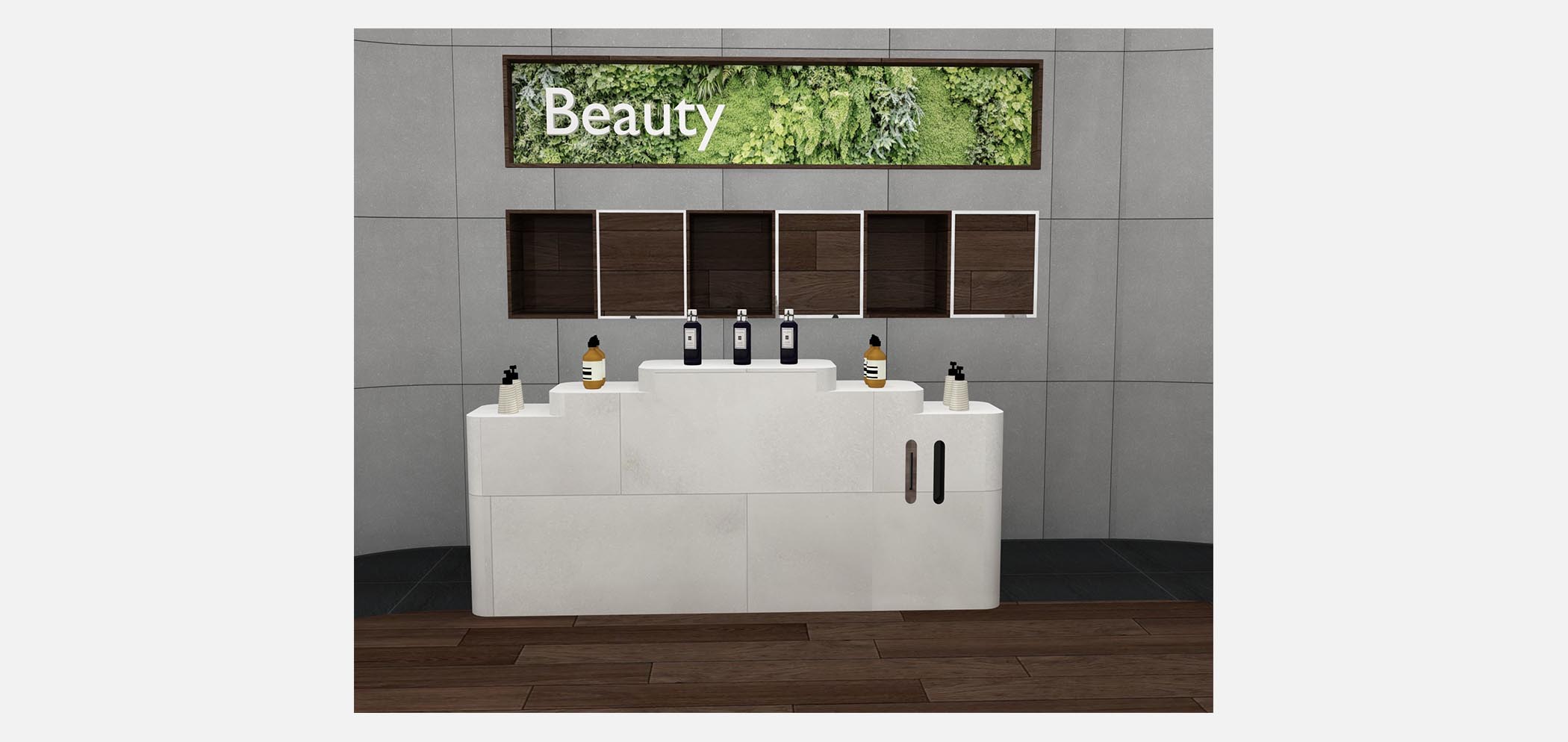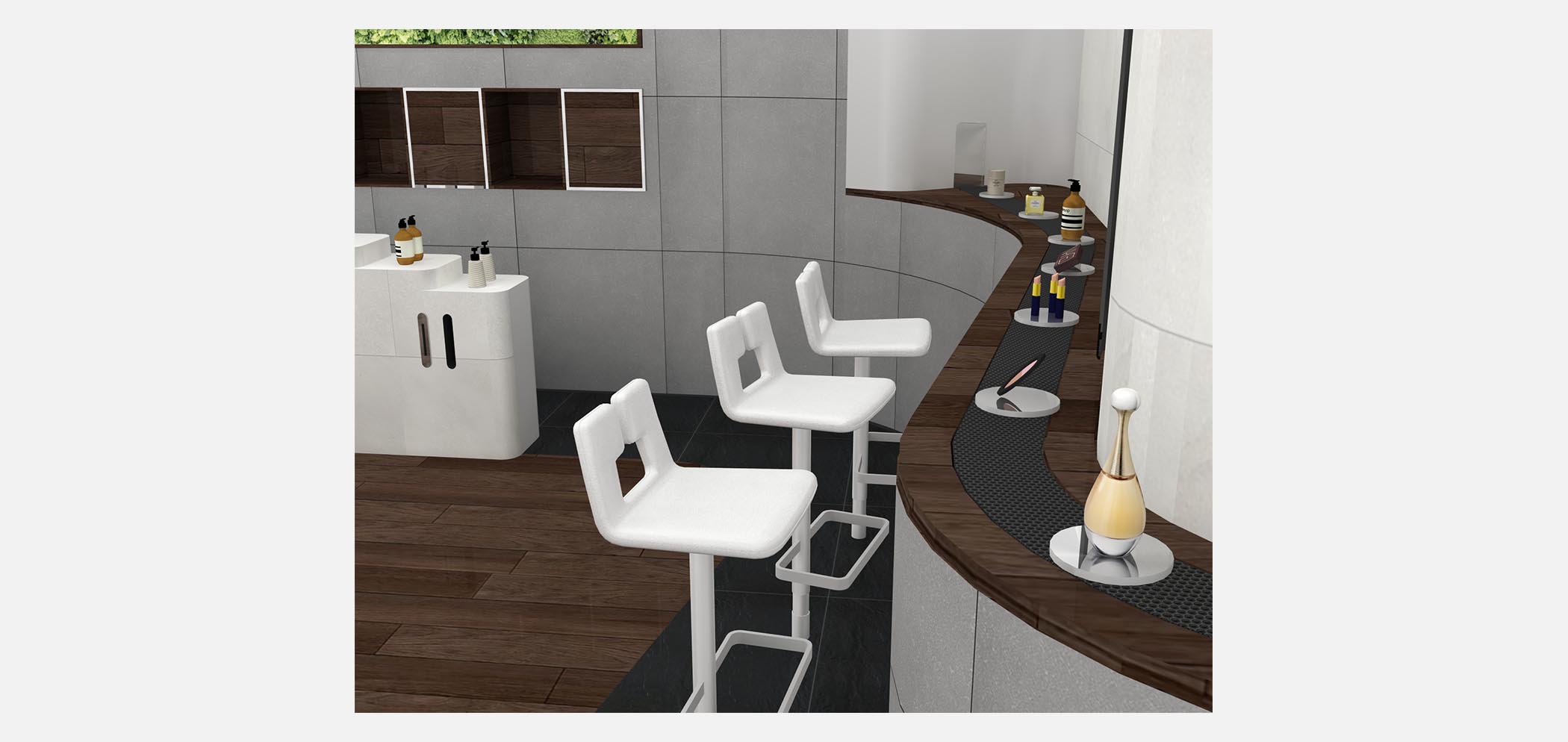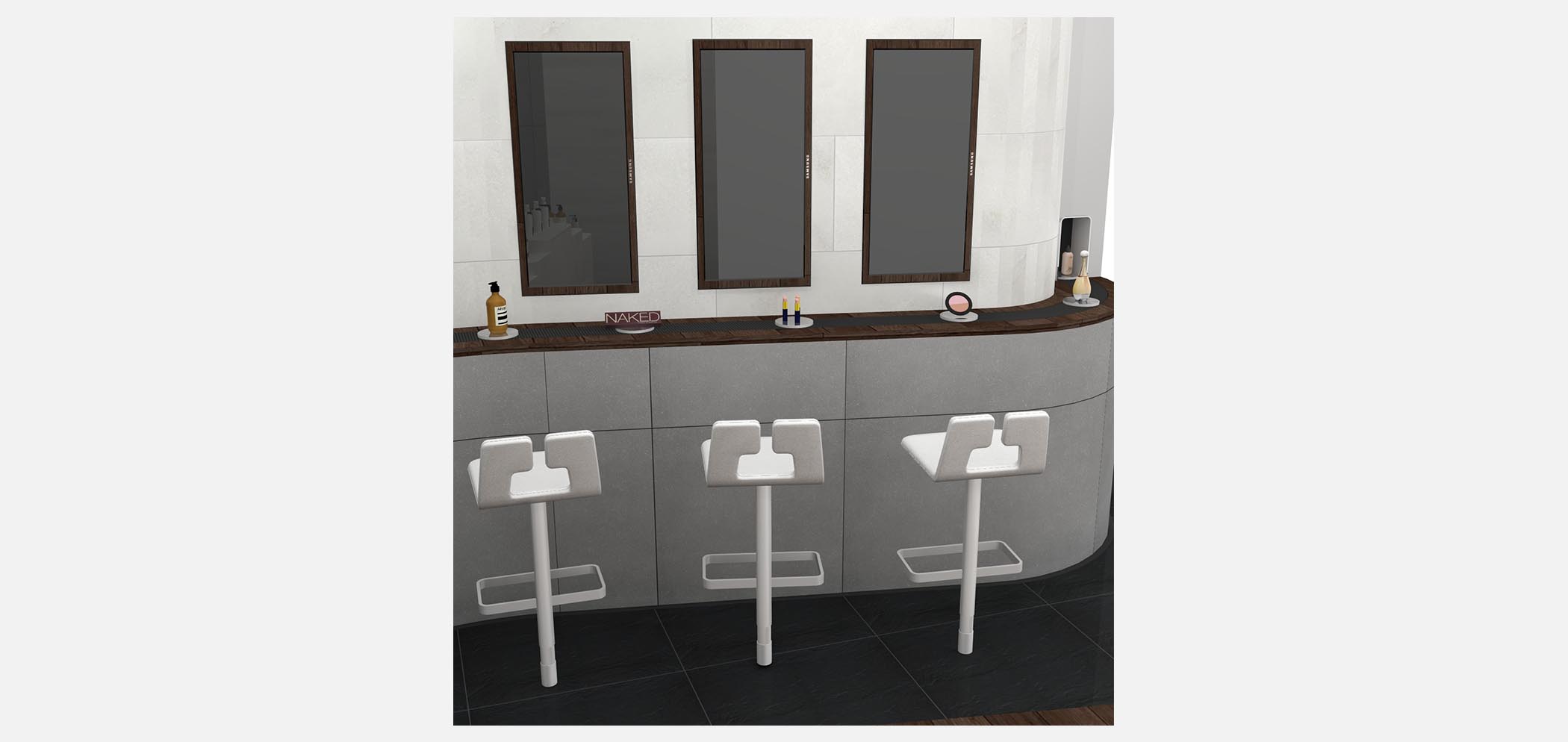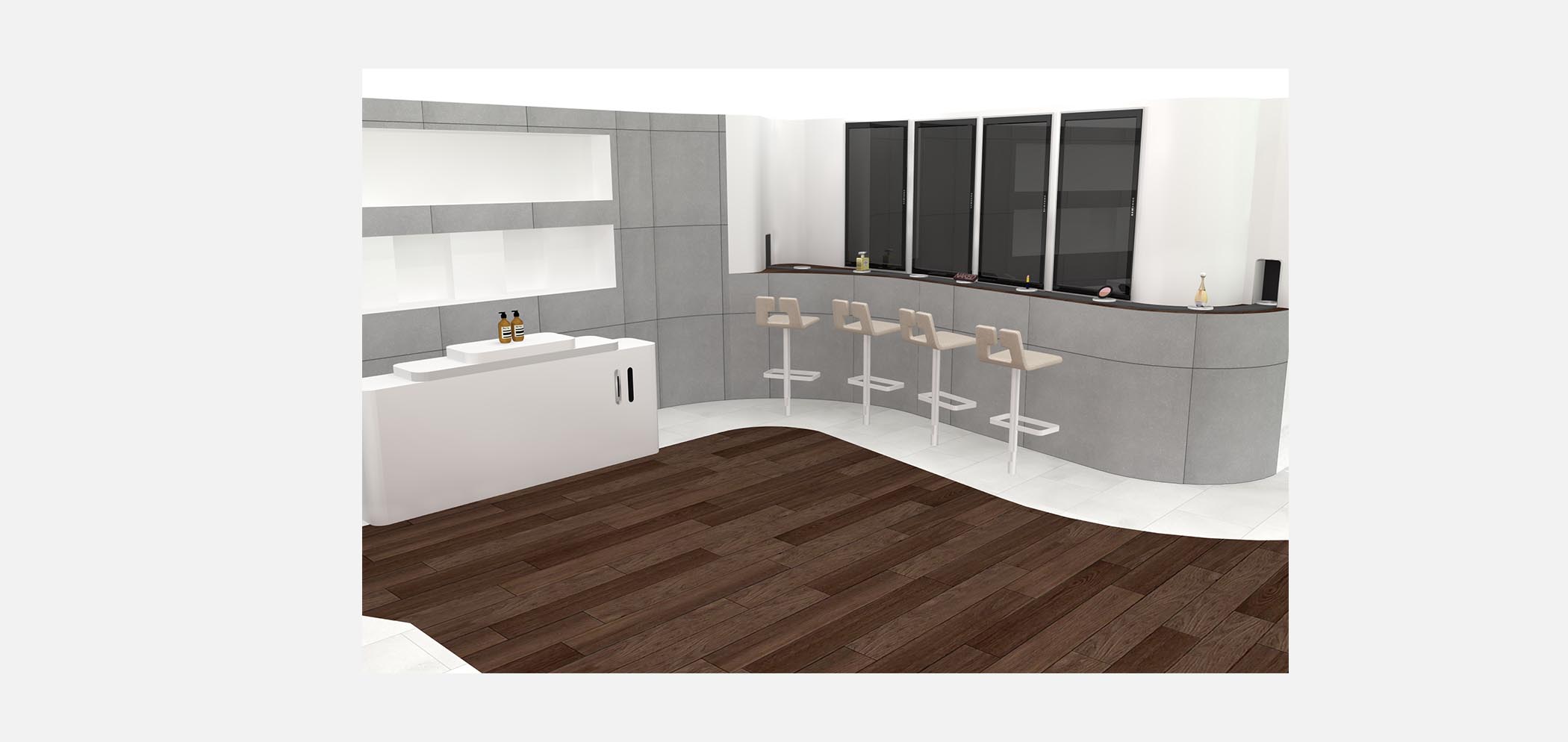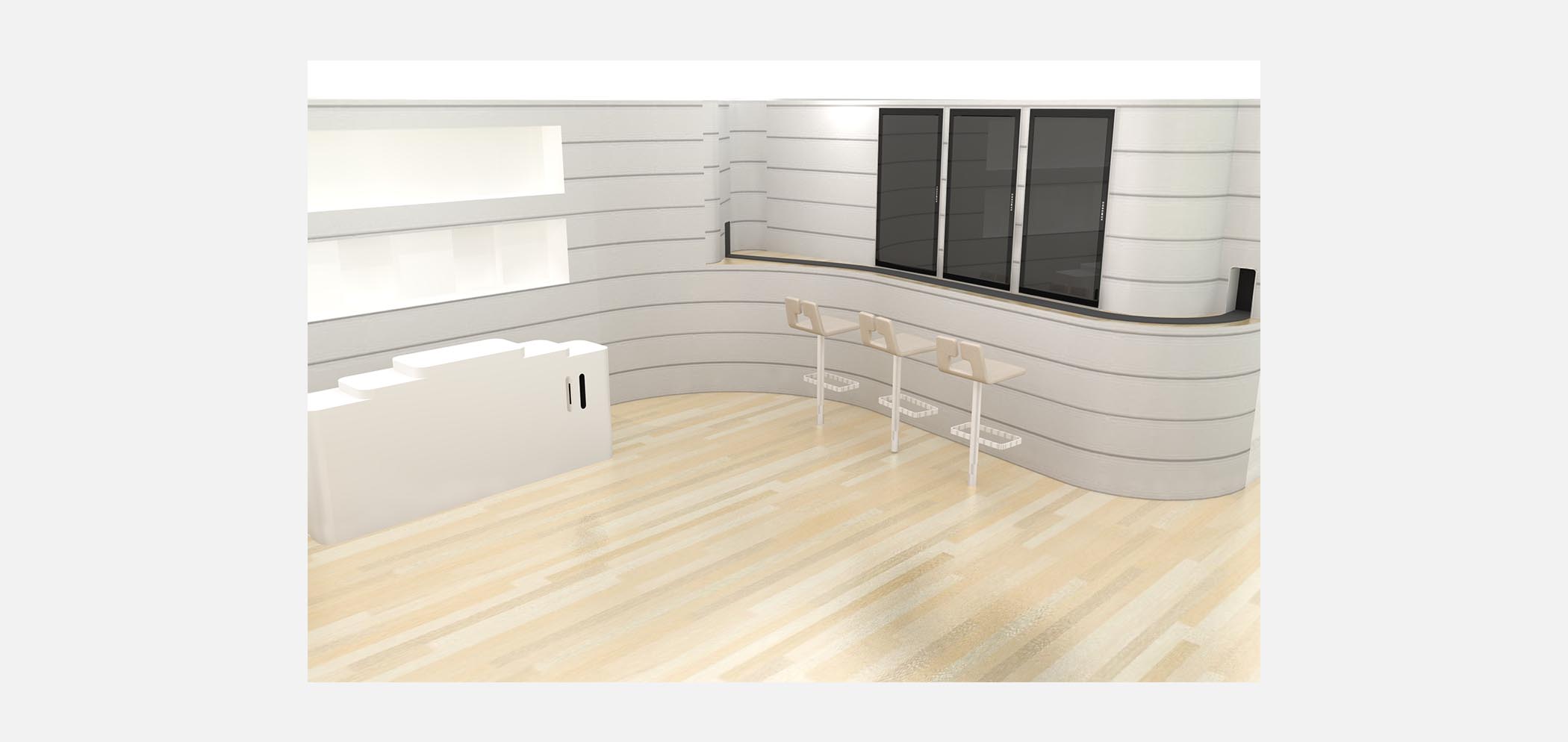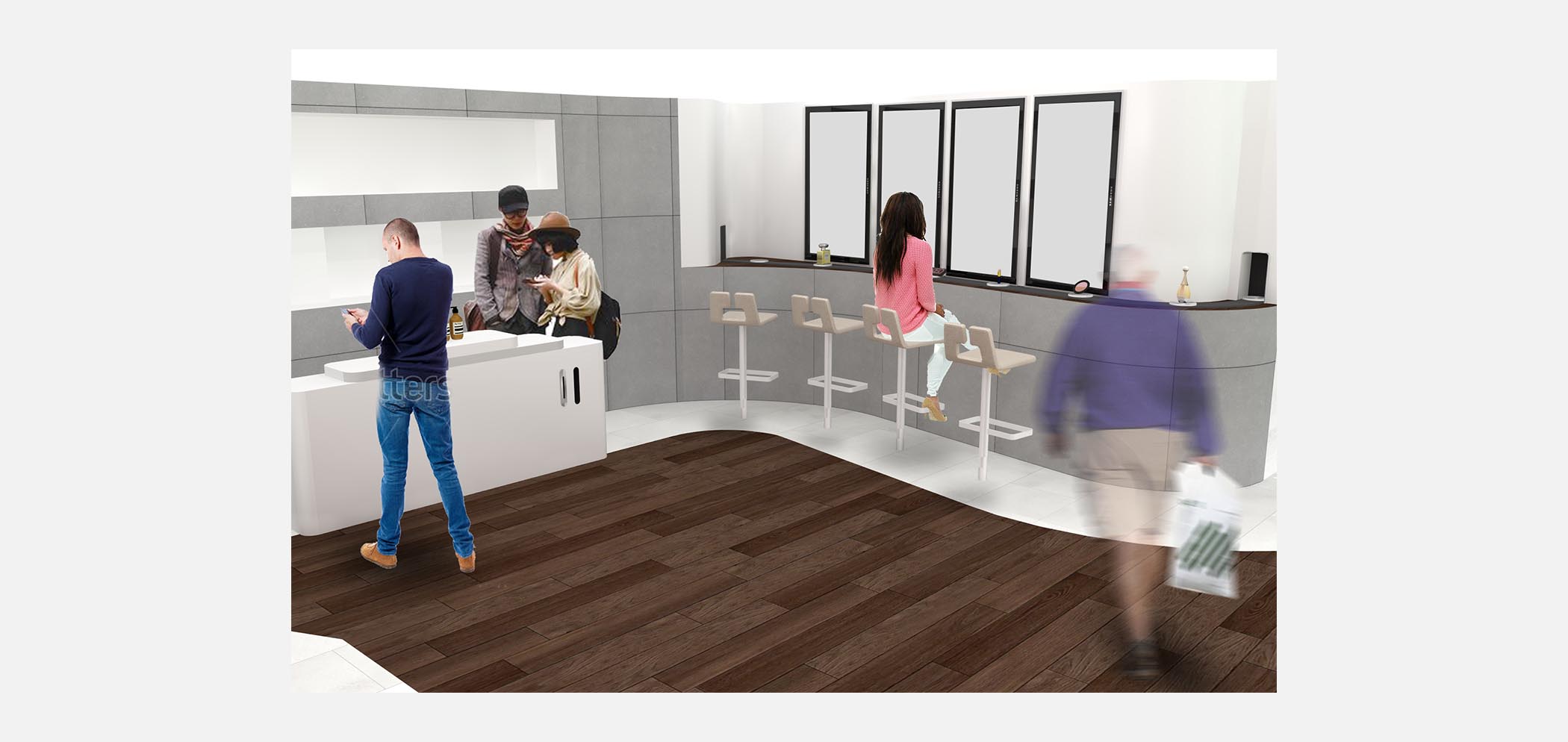 There were a lot of things wrong with my original SketchUp render. The interior design was all wrong. It looked outdated with dark wood panelling and poorly positioned furniture. It needed to feel modern, fresh and new. In my head I wanted it to have the same tone of voice as a Virgin Atlantic Clubhouse. Clubhouses are Virgin Atlantic's lounges for Upper Class and gold passengers. They are light, well designed with cleverly integrated lighting and feel slightly futuristic. David's exact comments were "it looks like an Emirates Lounge". He was right, I had got interior design tone of voice all wrong. I love Emirates, and they are a very innovative airline, the first to have onboard showers, their entertainment system has won the Skytrax award for best in-flight entertainment system for 13 consecutive years, and their services are modern, efficient but also luxurious - a hard balance to get right, but they have a completely different tone of voice and visual aesthetic that I was going for.
David's comment about the Emirates lounge really stayed in my head as it made it clear that although I had rendered a space, and used sketch up well, I had not created what I set out to make and it didn't fit right with the brief, so I decided to start again from scratch. This time before creating the space in SketchUp I made a mood board with references to architecture and interior design features that I liked and wanted to replicate in style. This meant I already had a clear idea of the final tone of voice and spatial design.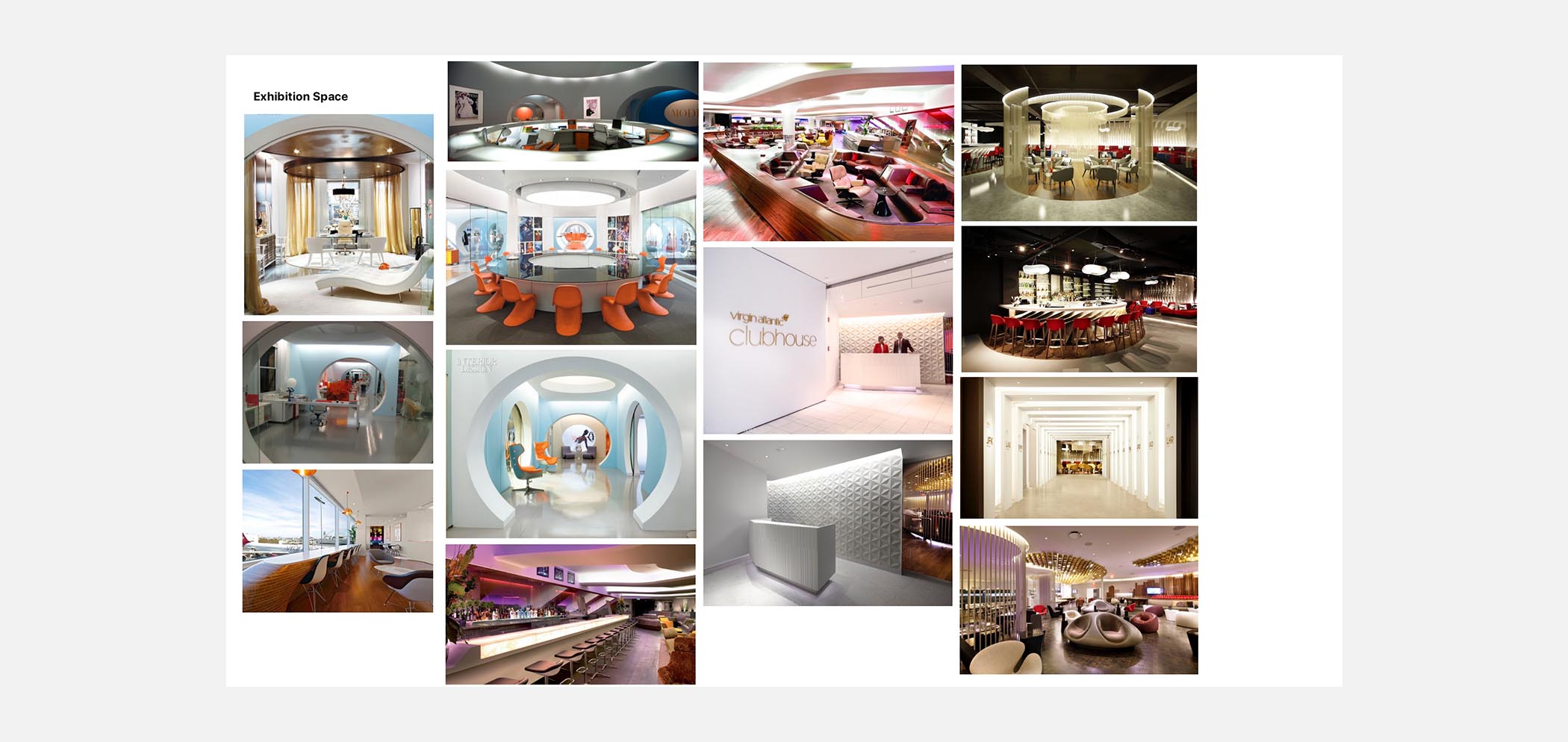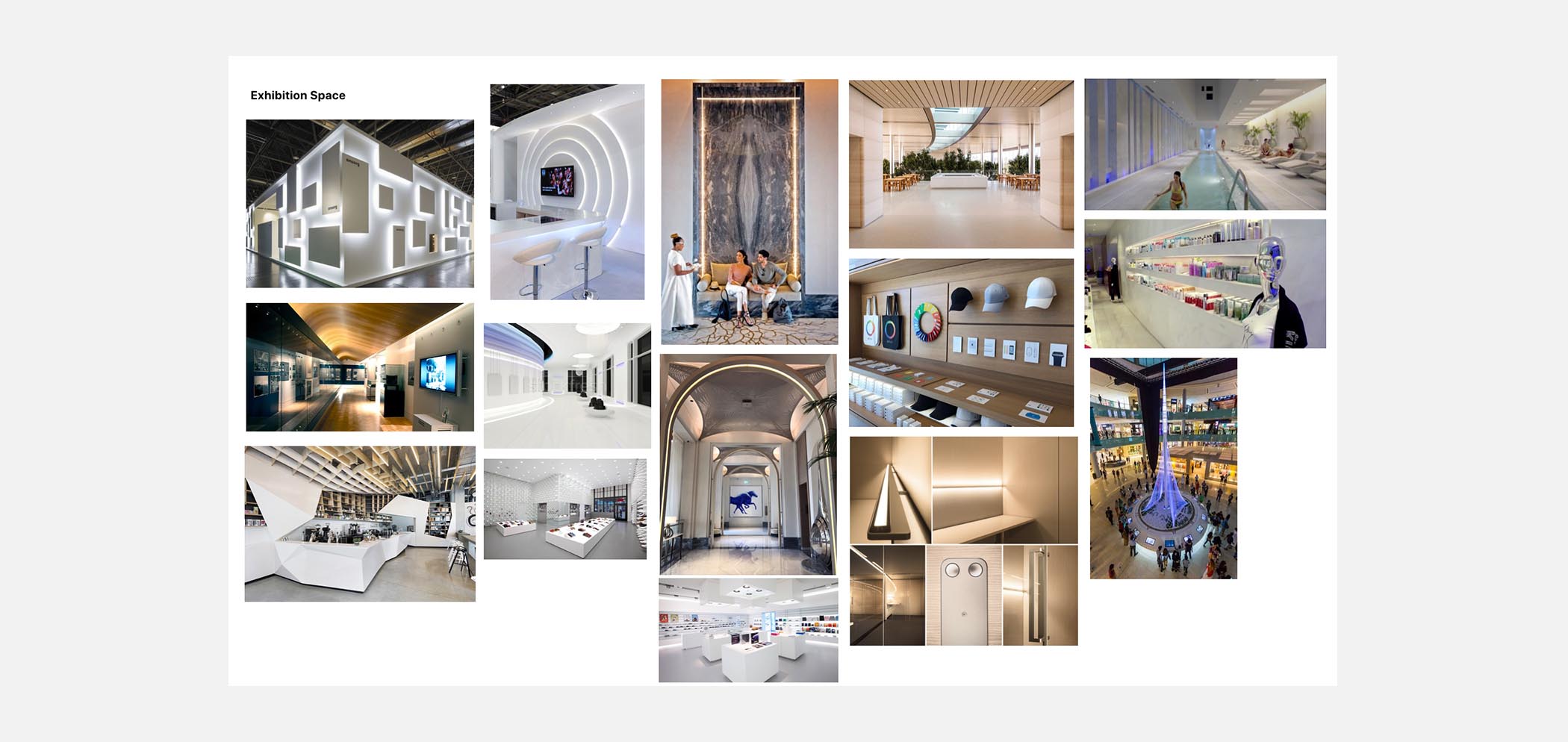 I used the same original exhibition layout as a starting point but changed everything within the space from the furniture to the colours and textures which gave the area a completely different feel. I also redesigned the main elements to enhance them. I redesigned the beauty bar with moving conveyor belt to feel more like the spaces in my mood board. I redesigned the shape and layout, added large white and reflective surfaces, added foliage and many more bar stools making it a much bigger and more sociable space than before. The new area feels lighter and fresher with a much higher sense of openness. I am really pleased with the new space as it is much more like what I initially set out to do and a big step up from the original idea.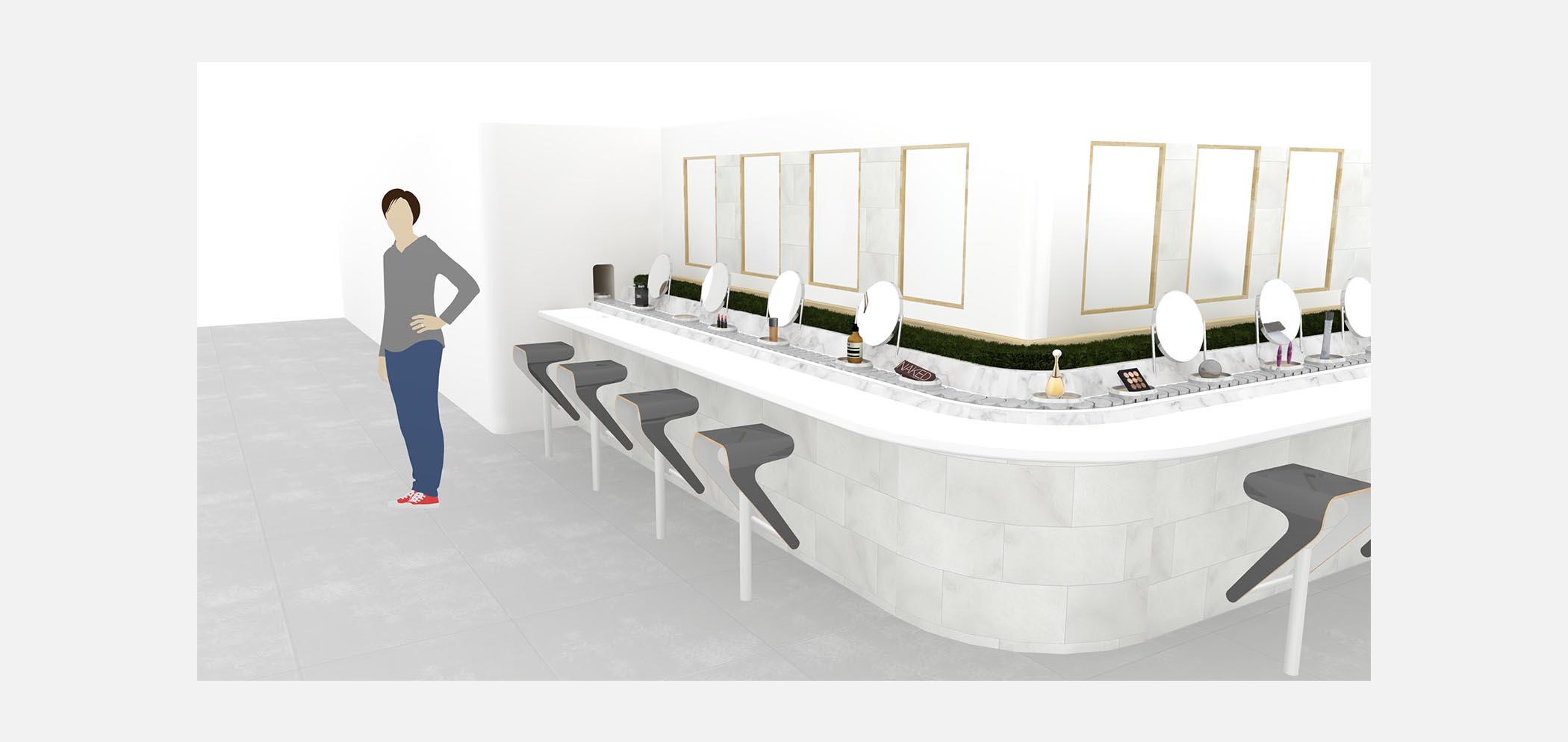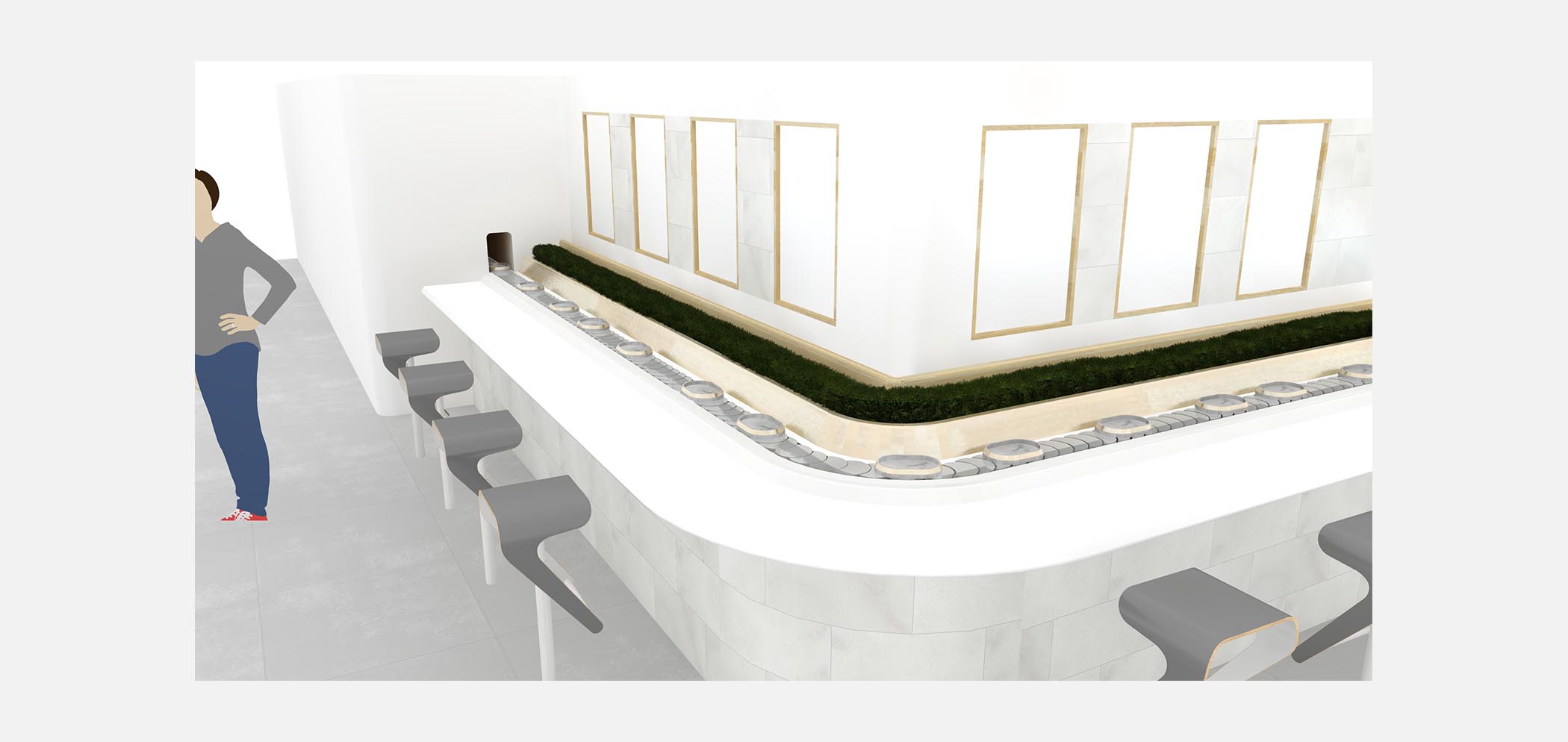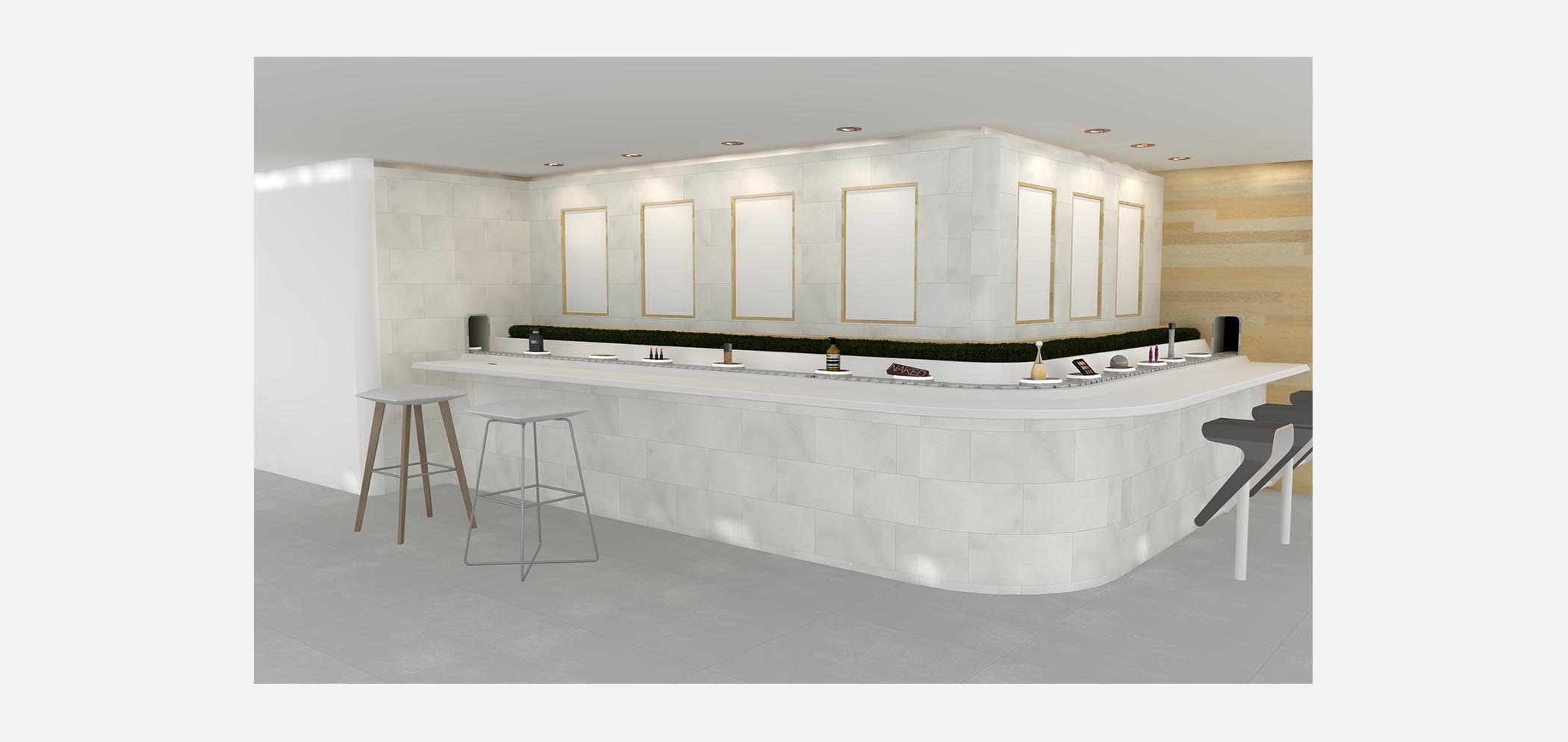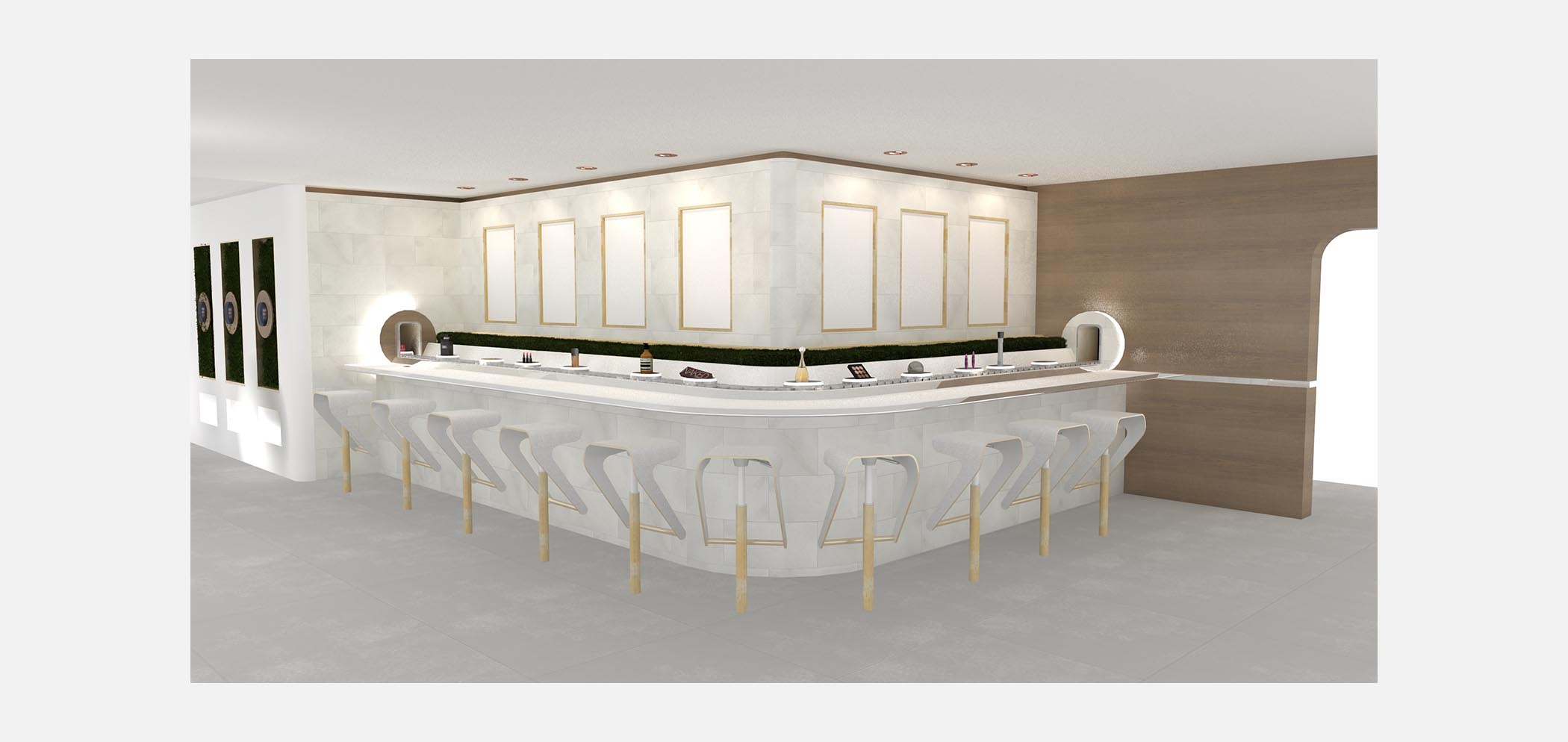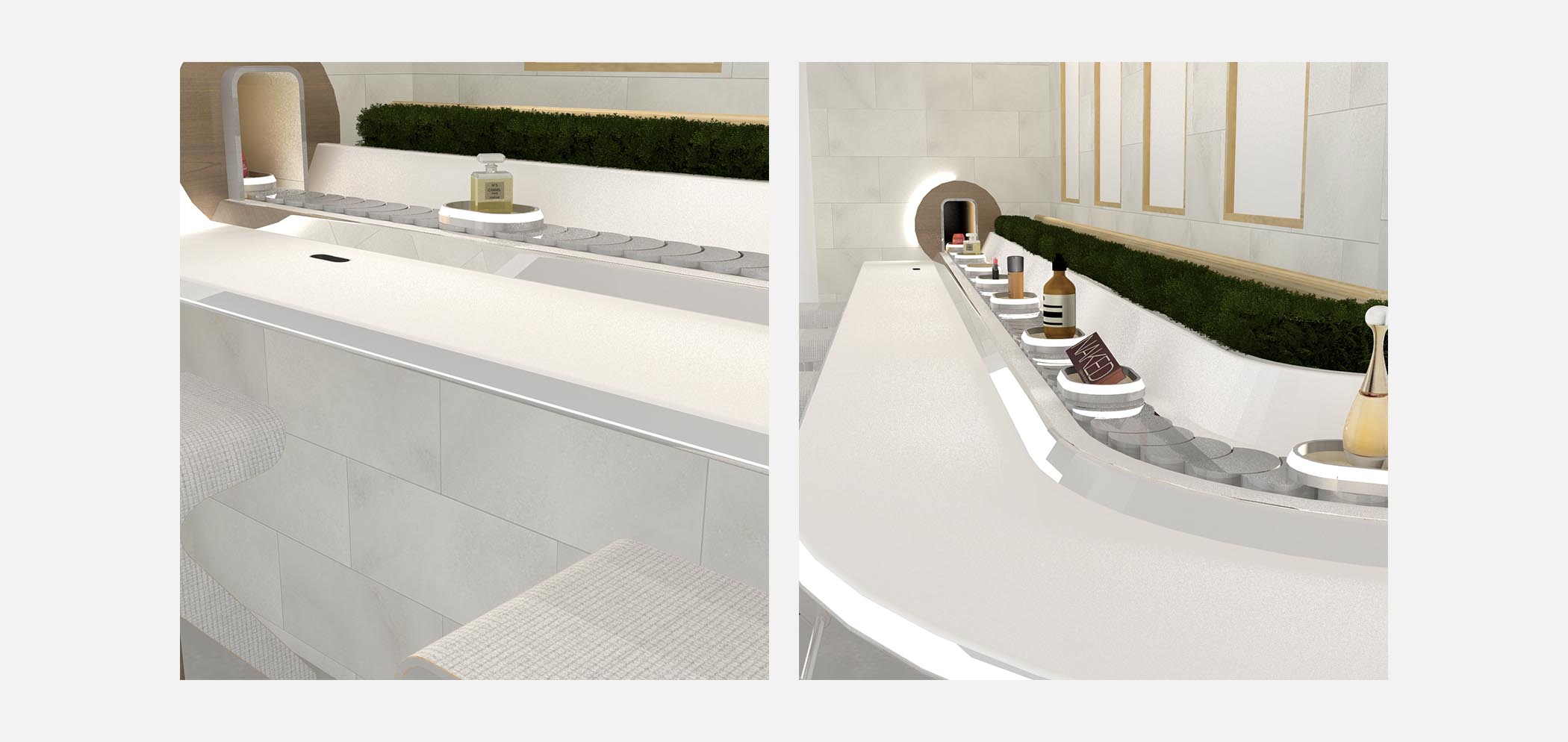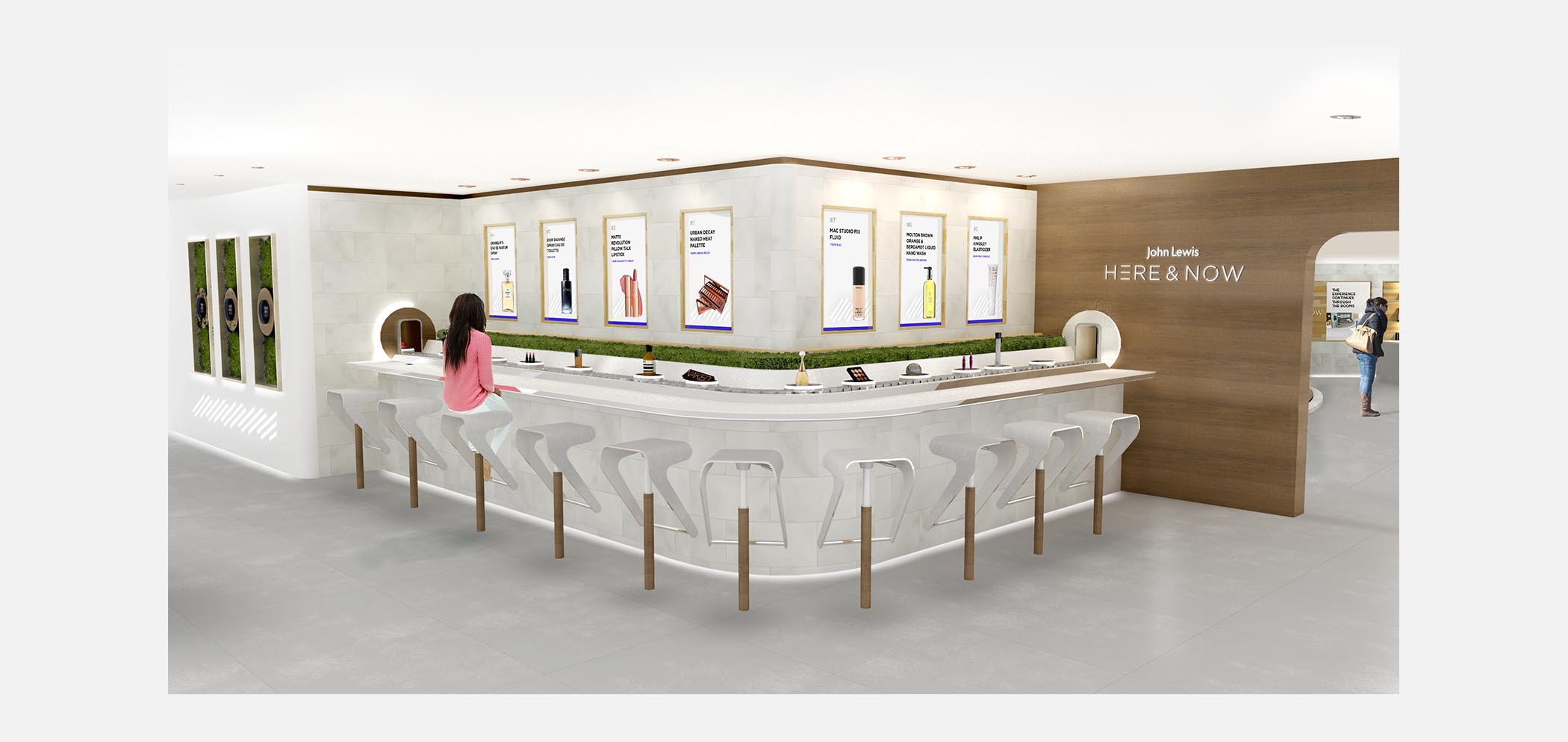 I also paid much higher attention to detail in the new model, for example, the old conveyor belt was a single strip of rubbery material. The new conveyor belt used a metallic disc system similar to a sushi bar or luggage carousel. This makes it much more realistic as I hand placed every section of the conveyor belt to create the exact look I wanted. With the photoshopped images I took greater care too. For example the woman in the original version was taken from Google Images; however, it looked very artificial, and her cheesy smile does not show the professional and realistic tone of voice I wanted. In the new render, I downloaded a set of high quality cut out people. As there was a large set, I was able to select the right people for each scene and easily adjust how the person is lit to match the scene.
I also made the decision to complete start again with the project branding and name. The name Trend Gallery sounded too 'techy' and not personal and relatable enough. The project had also evolved in such a way that that name didn't really make sense and wasn't relevant. I wrote down a list of alternative names and words that related to my idea as I was struggling to come up with a new name.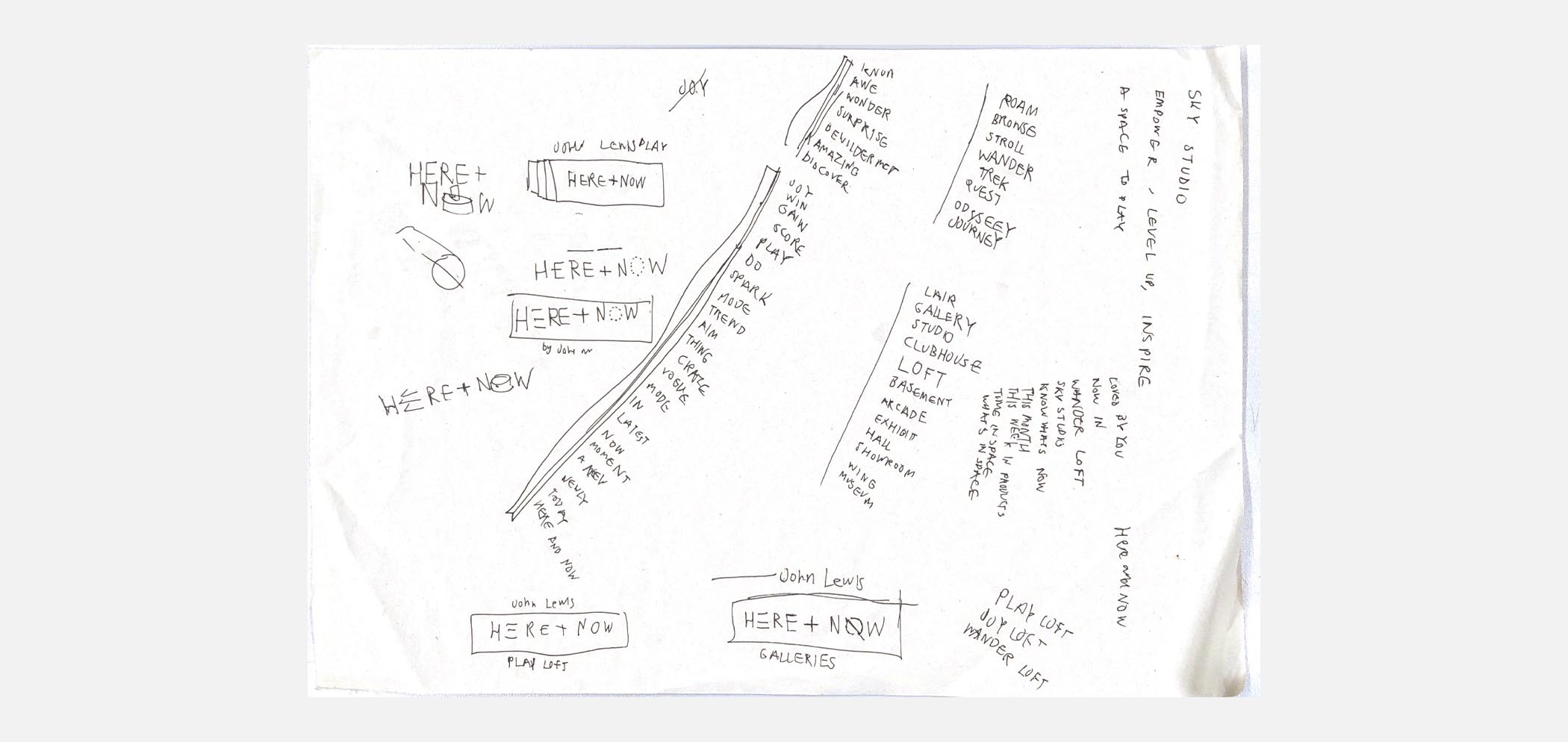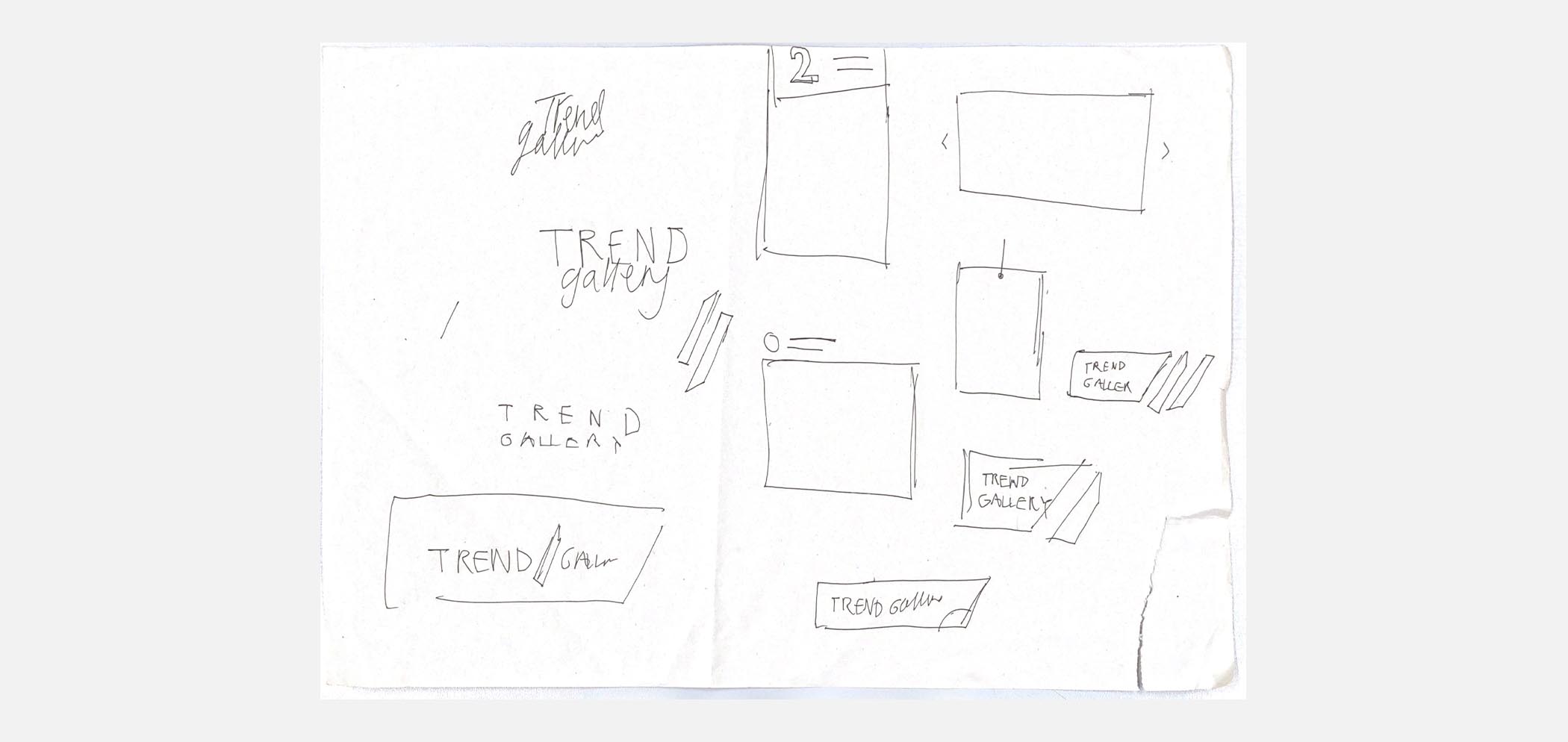 I spent a lot of time on thesaurus.com looking for synonyms for words that related to my idea. I came across the phrase 'here and now' and thought it could work for the project. My idea is all about showing the best of what John Lewis has to offer (what's here) and the latest products and what's trending (what's in right now), so Here and now worked well has a name. I swapped the word 'and' for an ampersand, so it read Here & Now. I wanted the whole campaign to have a unified colour that was new to John Lewis brand, so I kept the same shade of blueish-purple as before. I used the sans serif Gotham typeface for the word-mark and removed parts of the letters to make text look more futuristic to help appeal to a younger audience.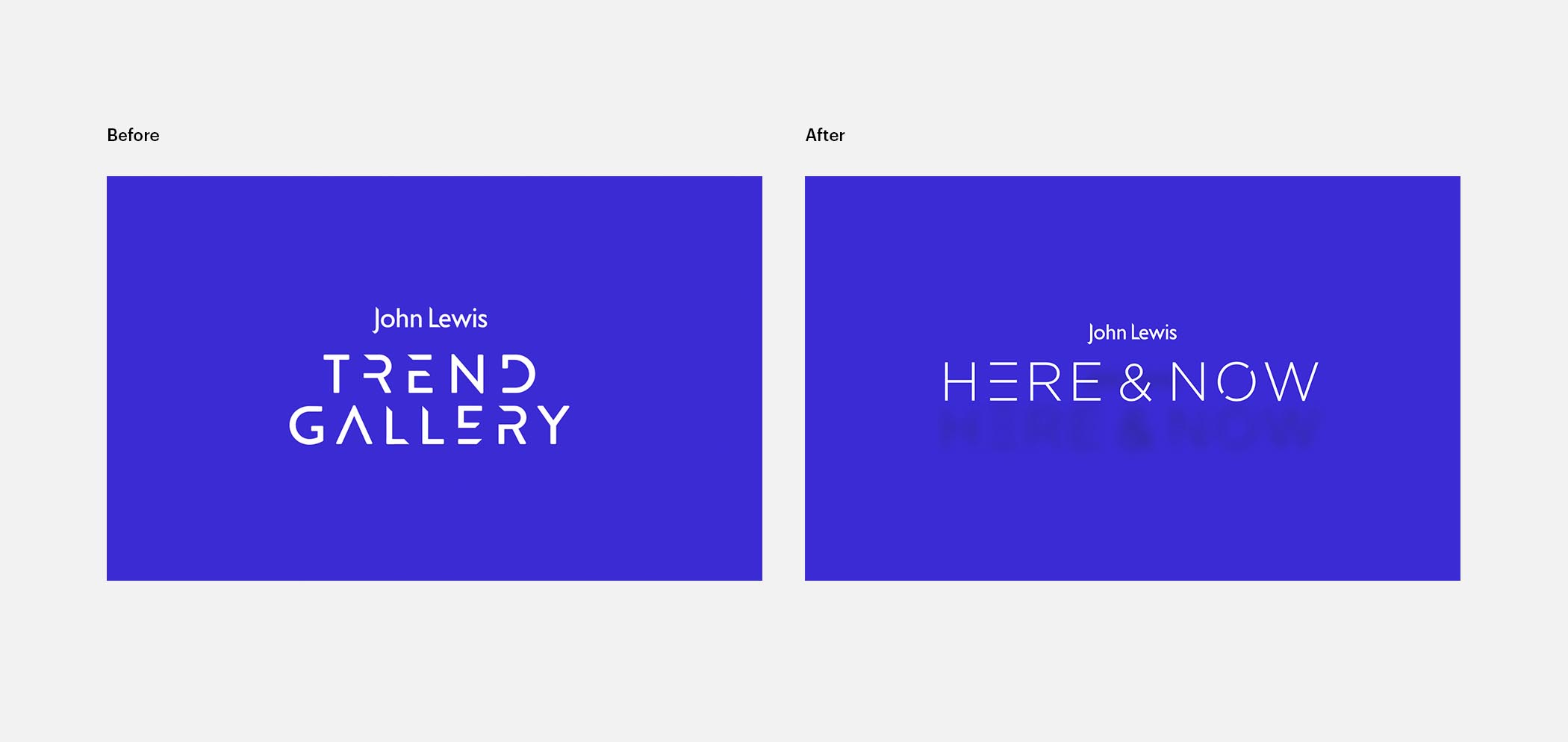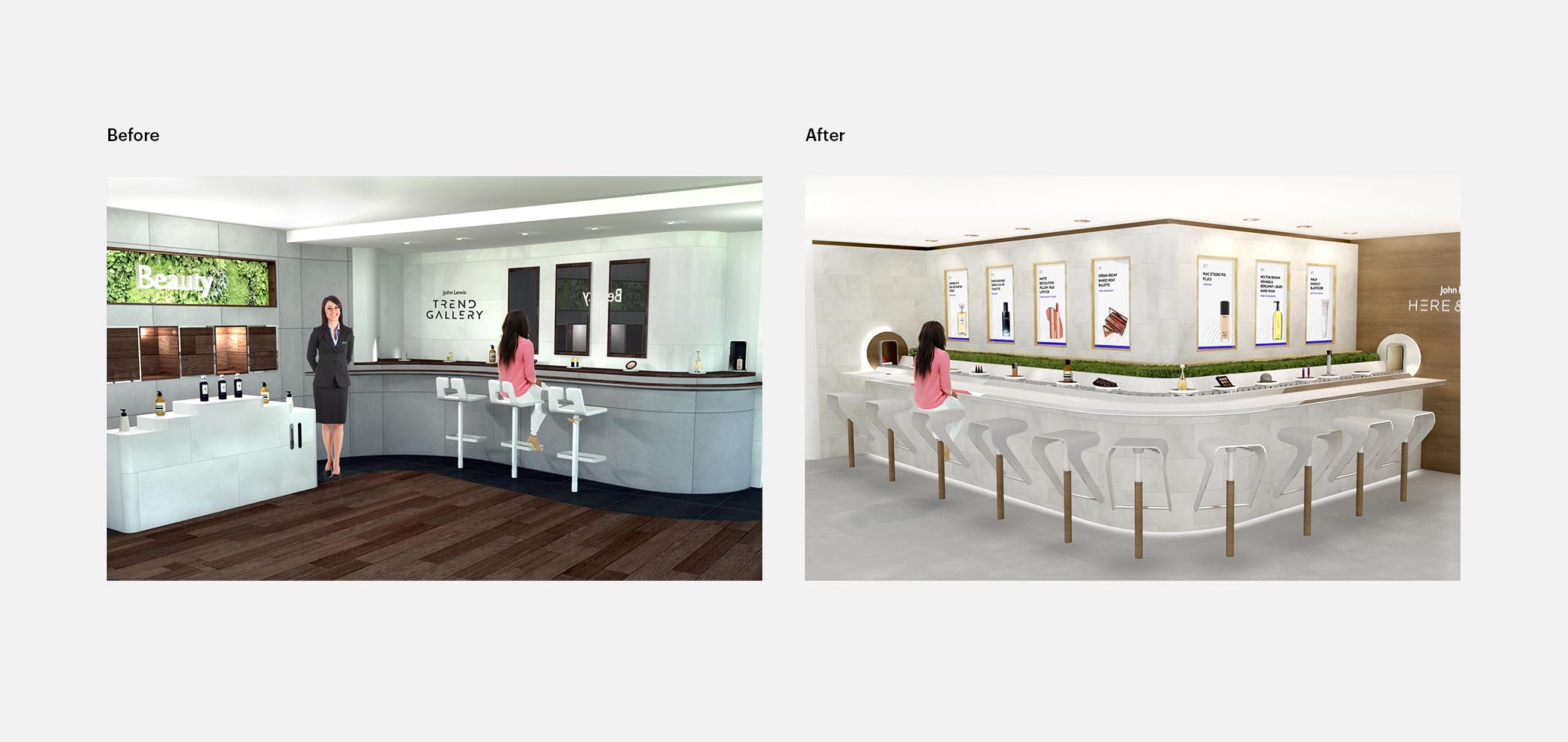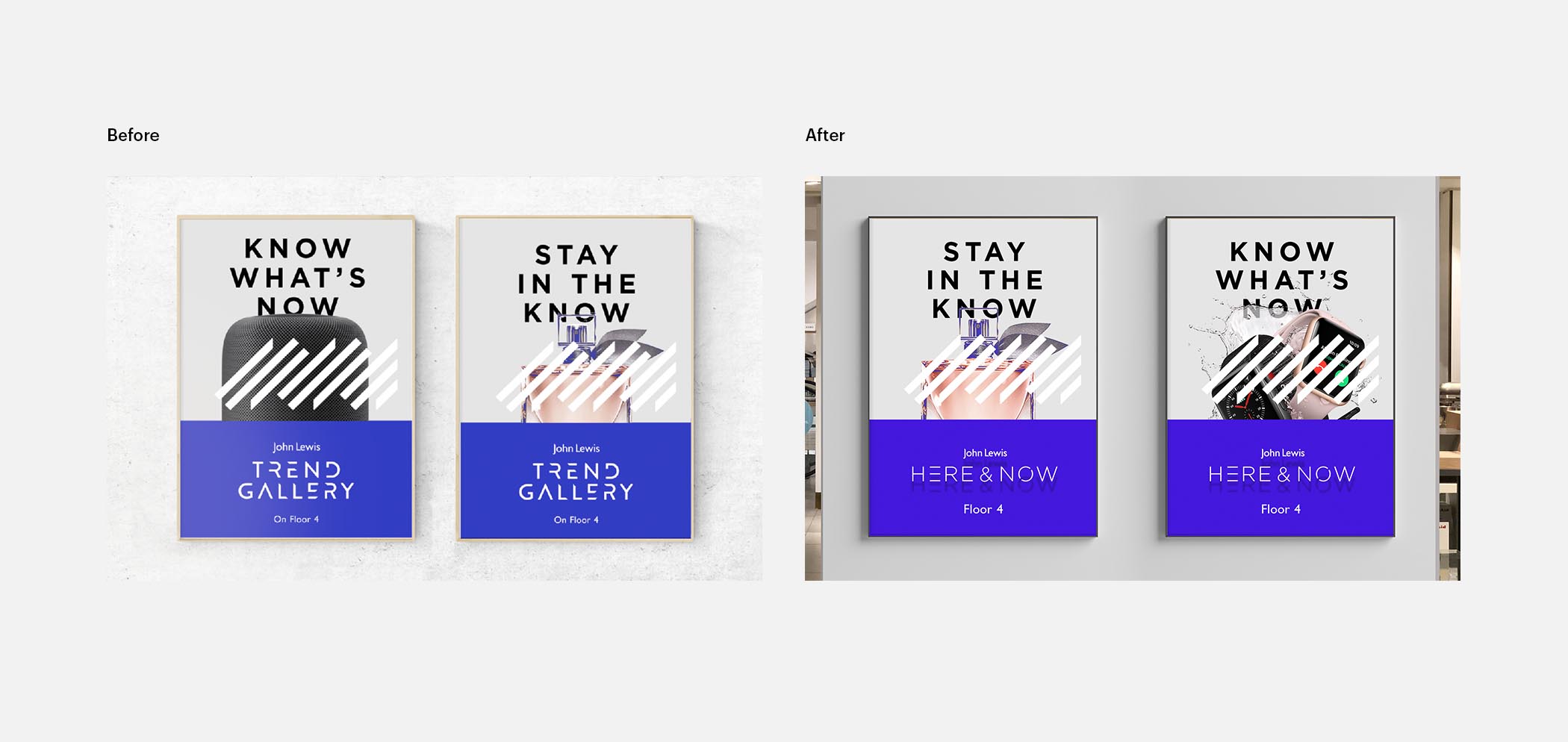 With a new name, new branding and new interior models, I felt much happier with the project and thought it addressed the brief in a much more sophisticated way. Looking back at the old render, it seems so outdated. It reminds me of looking at "before" and "after" images of a home makeover show. Redoing the branding breathed a new life into the project, and when creating the other rooms in sketch up, I was much more aware of my references and how the room needed to look.