Deco: A contemporary Art Deco typeface
For our latest project, we had a few weeks to design a typeface from scratch, with tutorials and feedback sessions from type designer Bhav Mistry. Using Illustrator and Glyphs we had to create a usable font file and set of posters featuring our handmade type.
I knew from the start that I wanted to create a typeface with art deco characteristics. After visiting Miami's South Beach and Art Deco District many times, I must have been subliminally influenced by the lettering that is found all over the city. The City of Miami Beach is full of Art Deco architecture and the buildings all have some key elements that give them their signature look. Almost all of the art deco buildings are painted in white or pastel colours, feature ship-like styling such as round 'porthole' windows, perfect symmetry or a tapered shape. And one thing that they all have in common which is unlike any other city I have been to, is the typography. Most of the building have some form of lettering, whether it's the name of the store, hotel or apartments, they letters are drawn in iconically art deco typefaces.
I wanted to create a typeface that could sit comfortably on the side of one of South Beach's classic buildings however, I wanted to infuse a touch of modernity and give the font a more contemporary feel. Finding the right balance between 1920's art deco and 2017 styling was what I needed to get right to make this typeface work.
Just a couple of miles north of the Art Deco District, in the millionaire's row is Miami Beach's Fontainebleau Hotel. The hotel is a landmark of the city featuring in numerous films including the opening scene of the James Bond classic - Goldfinger, it hosts annual Victoria Secret Fashion shows and concerts from the world's biggest musicians. After a 2008 billion dollar refurbishment, the hotel unveiled a new logo which paid homage to the hotel's Art Deco roots but gave a modern, fresh feel to the identity. The character of this logo is what I wanted to portray in my typeface.
I started with lots of sketching and experimenting on paper, trying out different letter combinations and writing random words. After drawing lots of stand alone letters I started to develop a style which I liked and began to analyse what I liked about it. From this, I could develop a more robust system of how long different parts of each character should be, and this made it fairly straightforward to draw the entire alphabet. I continued to experiment with different styling such as moving the height of the crossbars. I found by that the lower the crossbar, the more the typeface resembled traditional Art Deco, so I lowered them slightly to portray the right balance of tradition and modernity.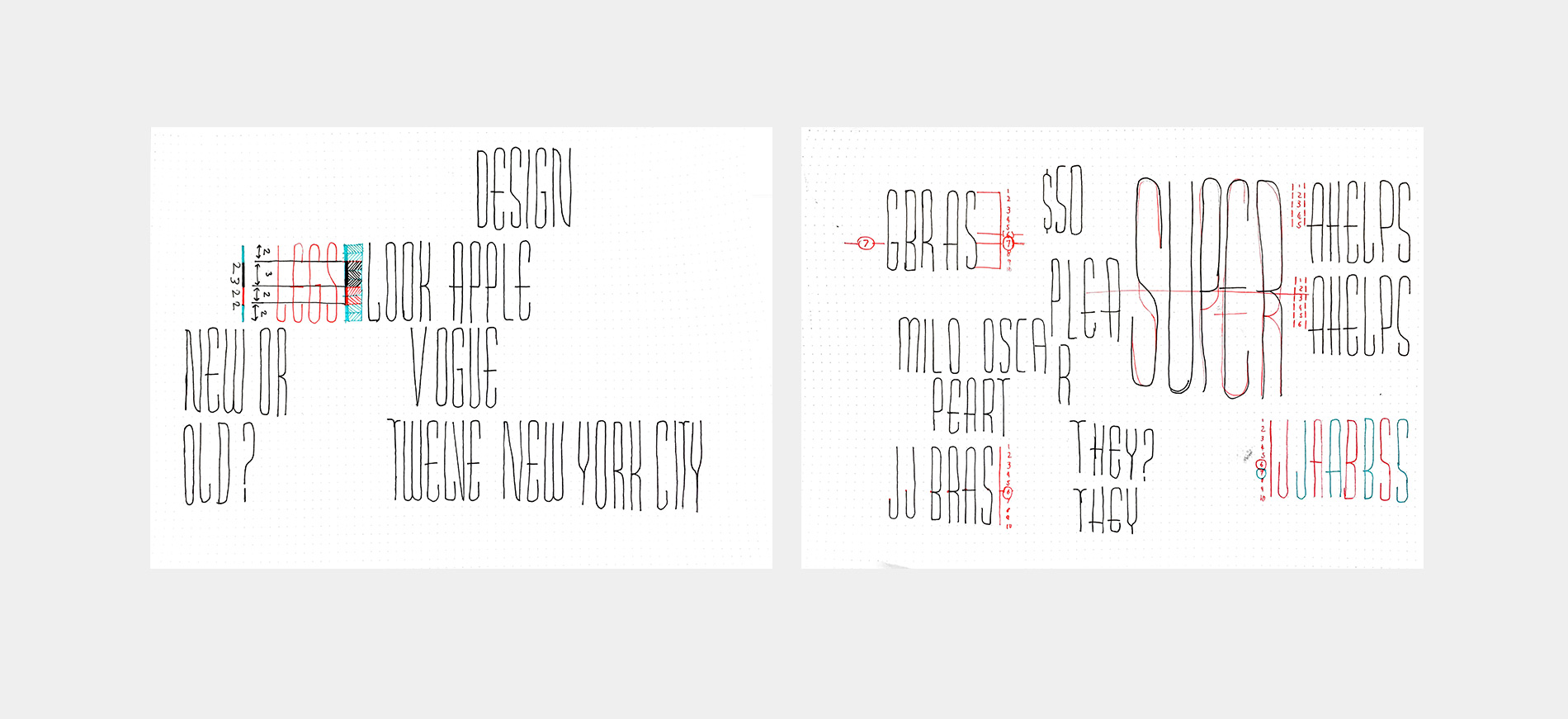 On paper, I had a clear idea of what my typeface would look like, so I moved it into the digital world and started drawing the characters in Illustrator. The experimenting on paper paid off as it made this a fairly simple task. I played around with different weights, kerning and curves until I found a combination I liked. In feedback sessions with Bhav, he was pleased with my progress and told me to keep going and refining my typeface.
I was using Illustrator to design the characters, but to make the actual typeface I used Glyphs. As this was my first time using Glyphs it took some time to get used to it and I watched some online tutorials. I started putting letters in however they weren't formatting correctly and it was taking ages to resize them. I ended up resizing everything in Illustrator and outlining the paths which fixed the problems. After overcoming some initial beginner problems with the software It was pretty straightforward to use and I enjoyed seeing the typeface come together. When I exported the font and started typing with it, I found some of the letters didn't line up perfectly so I re-adjusted them in Glyphs and exported again. This time they worked much better and I was really pleased with the final character set, it was extremely rewarding being able to type words in a font which I created from scratch.
For my poster, I knew I wanted to incorporate Art Deco architecture from Miami, so I looked through my photo library to find photos I could use. As this is such a condensed font, I scaled it up to fill the whole page. I really like this look as it was bold and clear. I experimented with different poster options until I came to one I liked best, which had the word Deco filling the space, and one of Miami's Art Deco buildings in the background. I tried different colour combinations too and found that they all gave off a different effect.
In the end, these were my final posters (below) and they were chosen to go in an exhibition with some the other Type posters from my class. I was really pleased with the outcome as this was my first time creating a typeface, and I created it from scratch. There were some parts of some of the letters that I would refine if I had longer, but generally, I was pleased with the way I worked and happy with my typeface. If I had longer I would have created a number set too as well as some more of the glyphs and ligatures to accompany that standard alphabet. I had a few problems with glyphs to start off with however these were quickly overcome as I learnt by playing around and watching online tutorials. After using Glyphs to export my font I was confident enough with the software to help other people in my class and show them how to use it. Overall this was a great project and I really enjoyed it.
I don't think I want to become a type designer, however, I now have a much better understanding of letterforms which may end up useful in the future. It has allowed me to appreciate type a lot more and understand the amount of work that goes into making every character. It's often the fonts that look the simplest, that are the hardest to make.